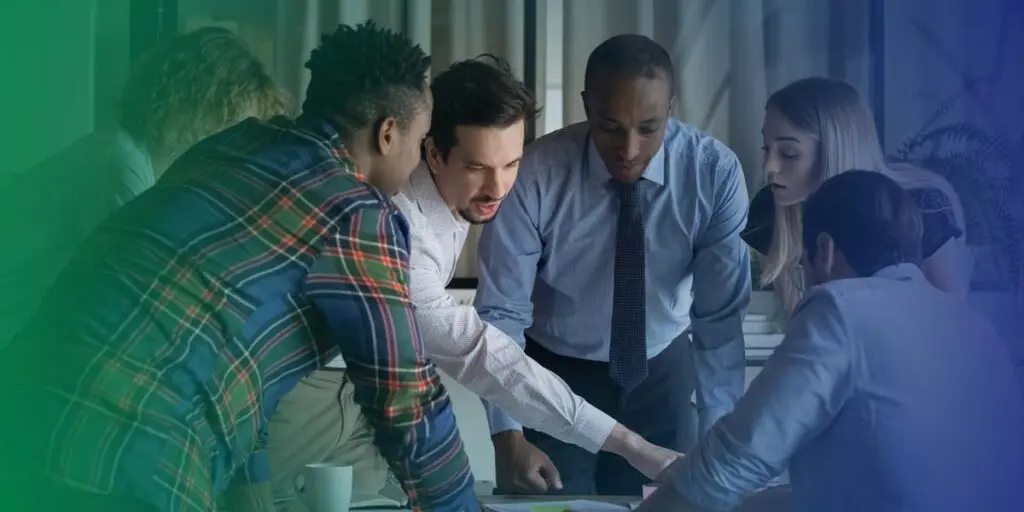 When companies integrate diverse partners and candidates into their supply chains, they create a culture and workforce that appeal to more clients and customers. At the same time, supply chain diversity offers numerous benefits often overlooked by traditional supply chain companies. From increased profits to a better understanding of customers, diversity in the workforce can help your company realize business opportunities across different sectors.
What Is Supply Chain Diversity?
Supply chain diversity focuses on diversity and inclusion in the supply chain industry. Many companies create a business strategy to locate and hire individuals or groups from diverse spaces or underrepresented sectors. This approach could also look like partnering with various businesses or sourcing goods and services from distinctive manufacturers.
When promoting supply chain diversity, your company can easily encourage innovation while increasing its market shares and profitability. Further, diversity can empower your current and future candidates by showing that you appreciate and respect their differences.
No matter their gender, ethnicity, religion, ability or education level, hiring a diverse supply chain team shows your business wants diverse individuals to feel they belong. Through consistent respect and value, you can build a company that has various partners and candidates and continues to strive for more diversity every day.
The Current State of Supply Chain Diversity
With diversity becoming an important topic among companies in every industry, it's essential to look at the current state of supply chain diversity and its priority among businesses. This attribute has quickly become a primary focus of supply chain companies as businesses realize that employing a diverse group of talent can offer numerous benefits. From appealing to more partners to outperforming other companies, diversity offers several positives many companies have begun to realize.
In general, efforts by corporations have slowly begun to diversify the supply chain industry and workforce. As companies diversify, they begin to cross boundaries in both organizational and geographical ways.
Research shows that diversity in the supply chain industry is becoming a priority. According to supplier.io's 2022 State of Supplier Diversity Report, 81% of respondents felt the importance of culture and inclusiveness alignment drove their diversity program. Almost 40% of the companies surveyed began to include diversity metrics in performance objectives, stating that diversity engagement in leadership was high, but accountability was low.
This data shows that even though diversity is becoming prevalent and necessary, it may still be challenging for companies to completely integrate a diversity policy and culture in the workplace.
6 Benefits of Supply Chain Diversity
When working with a variety of diverse individuals in an inclusive work setting, you can better understand the needs and wants of customers worldwide. Here are six benefits of supply chain diversity:
1. Increased Profitability
Supply chain diversity can increase your revenue and profitability through lower operating costs. Diversifying your partners and candidates increases your profits by spending less time on buying operations and staffing issues. Supplier diversity programs help make it easier to find staff from various walks of life, all while encouraging you to pursue diversity in every area.
2. Better Innovation and Outperformance
Working in an organization that accepts and encourages diversity allows companies to access different viewpoints. Team members may also feel inspired to improve their creativity and innovative skills. A diverse team could result in better problem-solving and decision-making due to the variety of bright minds, different opinions and helpful perspectives on the team. Diversity may also help teams become more adaptable while outperforming other supply chain companies.
3. More Solutions to Talent Gaps
While supply chains become more complex and reap adverse effects on the talent pool, companies that practice diversity can broaden their opportunities. You can eliminate bias and better your chances of filling roles by expanding to a diverse staff.
4. Stronger Participation and Retention
When team members feel included in a workplace, they're more likely to feel involved and motivated to stay and participate in workplace culture. This willingness to contribute to the company also results in better attendance records and retention over time, allowing you to build a more loyal workforce.
5. Clearer Understanding of Customers
By embracing inclusivity and diversity, your company will better understand your customers and market behaviors. Doing so also allows you to learn more about different countries or regions throughout the United States. As a result, you can more clearly understand how to cater to their needs and wants.
6. Improved Return on Investment
When building relationships with diverse suppliers, your company will reap financial benefits. Creating strong diversity in your company can also help increase your average return on investment (ROI).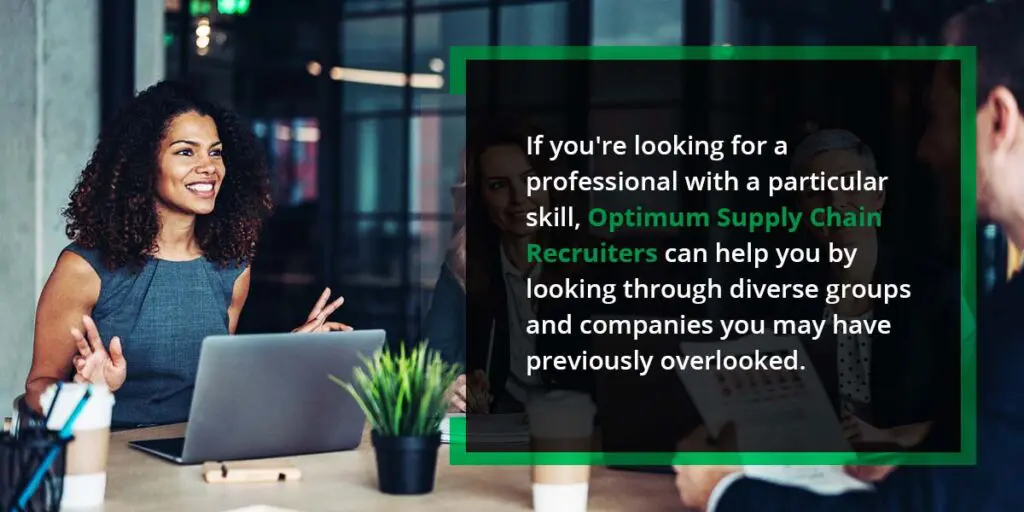 How Optimum Supply Chain Recruiters Can Help
Optimum Supply Chain Recruiters specializes in helping you find the best candidates from a diverse pool of professionals. If you're looking for a professional with a particular skill, we can help you by looking through diverse groups and companies you may have previously overlooked. Use our network and passive candidate recruitment opportunities to find full-time, interim or other team members.
We thoroughly vet our candidates so you can be sure you've found someone reliable. When it comes to increasing diversity, our passive candidates' service helps you find professionals who may be hidden from the traditional marketplace. This level of access enables you to reach out to individuals who might not have as much representation and include more people in your business.
With this advantage over other recruitment companies, you can easily find new team members. Work with Optimum SCR to diversify your company and experience the benefits of inclusivity.
Diversify Your Supply Chain With Help From Optimum supply Chain Recruiters
At Optimum Supply Chain Recruiters, we work as exclusive supply chain recruiters for your business, helping you find professionals nationwide. For those who need quality professionals in the industry, our company can help you find talent, candidates or partners quickly while searching through an extensive list of diverse groups.
We have the expertise, knowledge and professionalism to help you find and fill executive, director or team member positions. As nationwide specialists, we highly specialize in finding and vetting the best professionals to assist your company. Contact us today to speak to a representative, or call us at 800-300-7609.