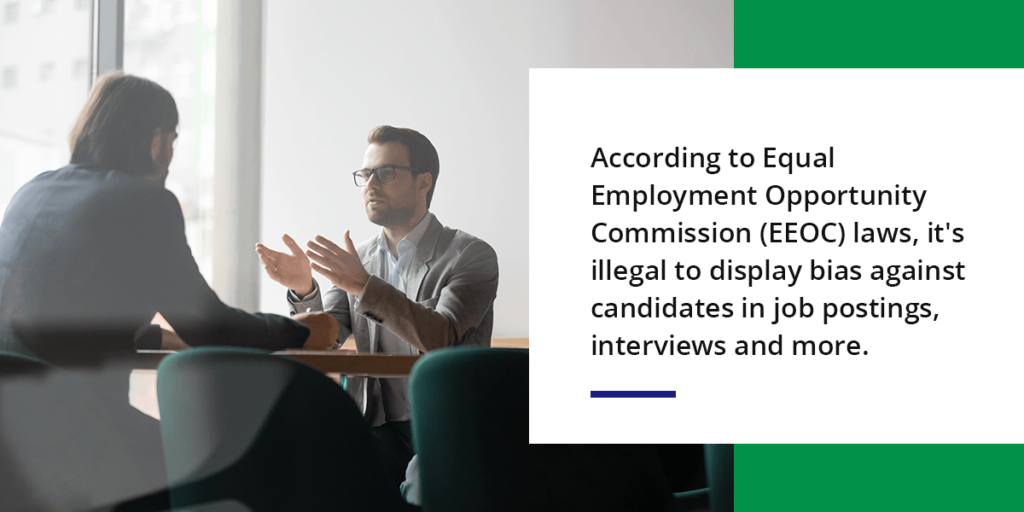 Table of Contents
%MCEPASTEBIN%Many questions that seem harmless can potentially violate anti-discrimination laws even when asked with the best intentions.
To avoid the risk of a discrimination lawsuit, you should ensure you're asking legal application questions relevant to the job and the applicant's skills. Use this article to form your employment application guidelines by learning about illegal questions to ask in an interview, along with some helpful ways to rephrase those questions.
What Is Pre-Employment Discrimination?
A recruiter asking improper and irrelevant questions based on age, race, religion, sexual orientation and other life situations is known as pre-employment discrimination. These questions are inappropriate because these factors rarely impact a candidate's ability to perform a job. Many laws in the United States aim to protect groups from pre-employment discrimination, so any qualified worker has an equal chance of being hired.
If a candidate believes a recruiter is asking discriminatory questions, they can take legal action against them. According to Equal Employment Opportunity Commission (EEOC) laws, it's illegal to display bias against candidates in job postings, interviews and more. By avoiding illegal hiring questions, you can prevent lawsuits based on discrimination.
7 Illegal Interview Questions
When considering new talent, avoid these illegal job interview questions to ensure your final decision is based primarily on merit:
1. "Do You Have a Disability?"
The Americans with Disabilities Act (ADA) prohibits questions relating to disabilities and other medical conditions when considering talent for a position. This act aims to help people with disabilities access the same opportunities as people without disabilities. Similarly, height and weight requirements can often be seen as discriminatory because these factors seldom contribute to a candidate's ability to perform a task — and questions about them disproportionately target historically underrepresented groups predisposed to specific body types.
Alternate Question — "Are You Able to Perform All Required Functions of This Position?"
By clearly defining job expectations and asking the candidate to confirm they can perform the required tasks, you can determine whether they'll be a good fit for the position without asking for overly personal information. If the candidate would need accommodations to perform job tasks, the law may still require the employer to consider them. Note that employers must provide reasonable accommodations whenever possible to help a person with a disability perform job duties.
2. "Are You a U.S. Citizen?"
The Immigration Reform and Control Act (IRCA) protects qualified candidates from discrimination based on citizenship status. All candidates outside the U.S. can work as long as they carry an employment authorization document and meet their visa requirements.
Alternate Question — "Are You Legally Eligible to Work in the United States?"
This question answers the only relevant consideration regarding citizenship status. After hiring, the candidate can provide any necessary document with Form I-9.
3. "Have You Ever Been Arrested?"
Unless the applicant is applying for a security-sensitive job, you should avoid this question. The EEOC has determined that using criminal history information to decide on talent can violate Title VII, which is a part of the Civil Rights Act of 1964. While you can legally as about a candidate's criminal history, you can't use that information to make your decision about hiring them. Altogether, it's best to avoid this question unless it's specifically necessary for the position.
4. "Are You Pregnant?"
Sometimes, employees may be wary of hiring a pregnant person because of the impending possibility of extended maternity leave. However, the Pregnancy Discrimination Act (PDA) makes it illegal for employers to discriminate based on a candidate's pregnancy status, plans to become pregnant, capacity to become pregnant or any pregnancy-related medical conditions.
Alternate Question — "Do You Have Any Future Leaves Planned?"
It's still helpful for employers to know if they can depend on a candidate during a critical period. A pregnant person can voluntarily disclose whether they would be available to work during an upcoming busy time for the company, such as the holiday season.
5. "How Old Are You?"
A person's age is usually irrelevant in hiring decisions because it's entirely separate from their ability to perform job duties. The Age Discrimination in Employment Act (ADEA) protects candidates over the age of 40 from discrimination based on age. From asking about dates of birth to when the candidate graduated high school, you should avoid any questions that point to their age.
An exception to this rule is when the position requires a minimum age. A bartender, for example, legally must be at least 21 years of age in most states.
6. "Are You Available for Work During the Weekends?"
While availability is an essential consideration for hiring new talent, the law can interpret it as a proxy question for discriminatory purposes. For example, this question may lead to the candidate revealing religious practices or having children to care for during the weekends. In both cases, Title VII protects these candidates because employers can usually make reasonable accommodations by shifting schedules.
Alternate Question — "Do You Have Prior Commitments That May Prevent You From Working the Assigned Shifts?"
This question meets the same purpose as the other without the risk of accidentally making a decision based on a candidate's religious practices or familial information. It allows the individual to disclose days and times when they can't work while keeping personal information under wraps.
7. "What Is Your Current Salary?"
In some cities and states, it's illegal for employers to ask about salary history. This information can cause employers to use a candidate's salary history to bargain a pay rate before the candidate knows what's offered to other talented individuals in the same position.
This system can perpetuate pay inequality. The employer could offer only slightly more than the candidate is paid in their current position to sway them while saving the company money. An applicant may receive an offer for less than their skills are worth or less than other workers of different genders or ethnic groups.
Alternate Question — "What Are Your Salary Expectations for This Position?"
By rephrasing the question, employers can gauge the candidate's expectations and see how well they match the company's budget without asking potentially discriminatory questions.
Conduct Interviews Confidently With OptimumSCR
When you need to fill critical positions in your company, a recruiting service can help you find the best candidates for the job while relieving the stress of lengthy interview processes and avoiding inappropriate interview questions. Optimum Supply Chain Recruiters specializes in finding and recruiting highly-skilled supply chain professionals. With one of the most expansive networks of supply chain candidates in the country, we can quickly find the best fit for your company.
Are you looking for talent? Contact us today so we can help you find the perfect candidate.