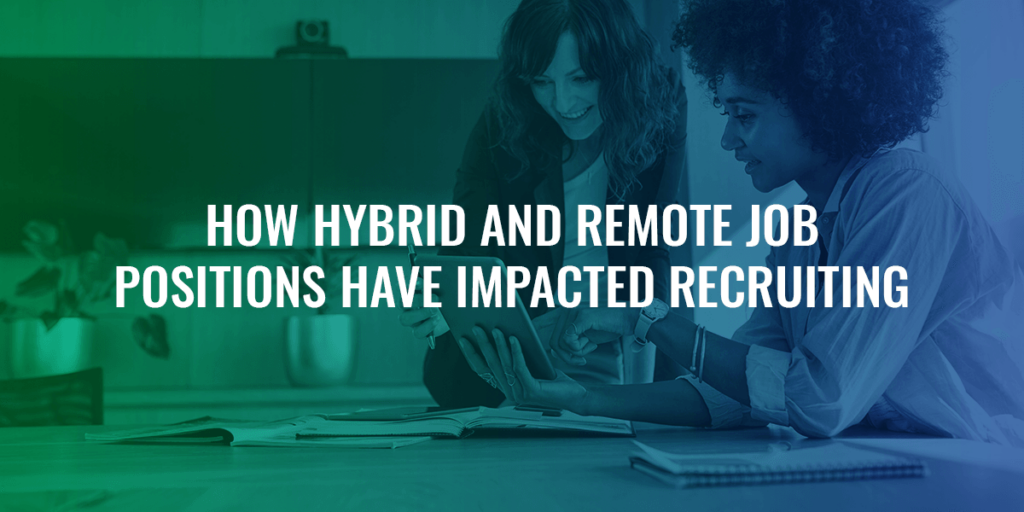 A talent shortage in any discipline can weigh on both talent and employers. The recruitment of supply chain, procurement, and logistics disciplines is significantly affected as they brace for transformation. However, companies can utilize new methods to fill positions with hybrid and remote work options. Potential candidates want to see supply chain job positions that offer hybrid and remote options. Many jobs that don't provide these conditional working options may lose the opportunity to secure executive talent when needed.
Nine out of 10 organizations are transforming to offer remote working, and supply chain disciplines will need to follow. Companies should prepare to adjust to the remote recruiting impact to stay in line with the ever-changing market conditions and talent demands. Supply chain management and procurement teams can successfully implement remote working in many different roles with the help of updated tools and technology.
What Are Hybrid and Remote Work?
Hybrid and remote work are relatively new options compared to the traditional working model. These options often allow talent to work from home or another location. Instead of the typical workday, hybrid and remote work both offer a new work-life balance. This type of work enables some flexibility for talent and employers to improve engagement and productivity. It is quite common that many jobs nowadays offer hybrid or remote work. However, the two kinds of work models differ slightly.
Hybrid
Hybrid work allows talent to work both in and out of the office on certain days of the week. Talent who have the hybrid option can also work during hours outside of their typical workday if they feel more productive. For example, some talent may struggle to be productive and engage in their work early in the morning and may feel more ready to tackle projects at night.
Depending on the job and requirements, talent may be allowed to choose the hours when they feel they will perform best. Other types of hybrid work include the standard option to work from any location for part or most of the workweek. The hybrid model is enticing to talent because they can spend some time out of the office in a new environment while completing their work with a refreshed mind.
The hybrid work recruiting impact has changed demand among talent recently, as 83% of workers say they prefer hybrid options for their job that allow them to work from home between 25% and 75% of the time. Another study revealed that 36% of workers would look for a new job if their current position required them to be in the office for the entire workweek duration. Clearly, potential candidates highly desire some kind of flexibility.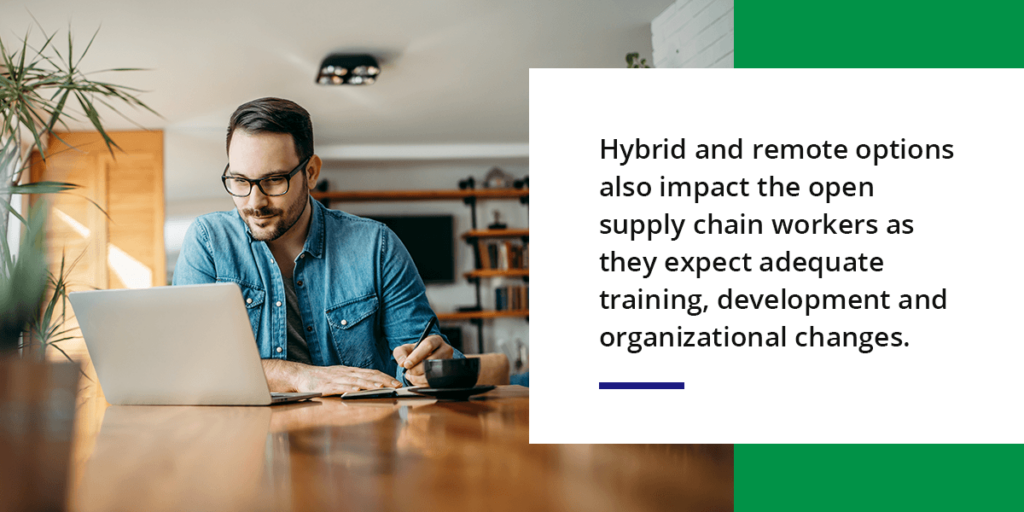 Remote
The benefits of remote work are similar to those of the hybrid model. Often, working remotely means that talent does not go into a standard office or work building at all. This type of work usually enables talent to work 100% from home or any location they wish. Communication between teams and employers is often done through virtual meetings and other means of technology. However, some employers may offer remote work entirely or for a few days out of the week.
Some talent may prefer this as they might feel better suited to a few days of remote work combined with several in-office days a week, while others prefer total remote work. The remote work model also offers more flexibility for both talent and employers, as remote talent can be hired from anywhere in the nation.
The hybrid and remote work models impact logistics disciplines and give them room to transform. Hybrid models have made it easier for logistics positions to have small teams work in office settings. Hybrid and remote options may also help reduce costs and increase talent satisfaction as they have more freedom to choose where to work. These new work models provide both opportunity and necessity to talent and employers in the supply chain and procurement disciplines.
These disciplines come with various roles and responsibilities that often rely on positions of executives, managers and recruiting directors. These jobs may, more specifically, include:
Supply chain operations manager
Supply chain operations specialist
Supply chain planning and distribution positions
Manufacturing and production positions
Procurement and sourcing positions
Logistics and operations positions
These disciplines rely heavily on customer service and detail-oriented tasks, so managing talent remotely must be seamless. As more talent wish to have flexible work options, supply chain managers and procurement operations must adapt to that need. This often means measuring performance for hybrid and remote workers and clarifying business objectives to ensure reliable collaboration. Hybrid and remote options also impact the open supply chain workers as they expect adequate training, development and organizational changes.
The Impact of Hybrid and Remote Work on Recruiting Supply Chain Talent
While hybrid and remote work have undoubtedly affected many jobs, it has taken its own toll on the talent search. It's no secret that most workers want the option to work from home for a better work-life balance. Candidates may have also realized that they can perform their jobs just as effectively at home as in the office. Supply chains have transformed into a digital environment over the years. Developing new working arrangements means companies and recruiters may have to adjust their hiring process to fill these essential supply chain positions.
Supply chain and logistics companies have often required candidates to work in a central location or facility that handles goods for planning and collaboration. However, as new technology has developed to maintain productivity and customer service from any location, many businesses may notice the rising benefits of hybrid and remote work.
Benefits
The hybrid recruitment model involves faster and more efficient digital processes that allow candidates easy remote and hybrid work. This ensures that communication during the recruitment, interview, and training process is fully digitalized and efficient. Recruiters looking for supply chain talent may be used to face-to-face interviews, which have now been switched out for virtual, online meetings. Though this is an adjustment for any business, securing the right candidate can be easier for hybrid and remote workers.
For example, making room for hybrid and remote positions means that the pool of candidates becomes much wider. This gives companies a larger range of skillsets to choose from when screening candidates for logistics or supply chain interviews. The rise of remote work has given businesses fewer limits when deciding on the location or proximity of workers. Supply chain or procurement candidates may hesitate to apply to companies that don't offer this flexibility.
Now, talent recruiters can broaden their search to hire candidates from nearly any area of the country. Adapting to the hybrid model also allows employers to stay competitive because they offer their candidates an advantage over companies that don't offer flexible working conditions. Employers who develop hybrid and remote options for candidates can also have better productivity and retention rates. Companies that offer these options show that they value their candidates' comfort, which is important for keeping candidates happy and overall satisfied.
Enabling different personalities for supply chain and logistics positions is another benefit to the remote work recruiting impact. For in-office positions, employers may be likely to choose more extroverted and energetic leaders over quieter ones. With hybrid and remote work, employers may have an easier time giving promotions and positions to those who get the job done instead of focusing on personality or appearances.
This impact also means that companies will need to develop new, creative ways of training candidates and helping them assimilate during the onboarding process. New recruitment procedures can bring an opportunity for businesses to implement different technologies, such as workflow automation, that reduce manual processes and enable more candidates to work remotely. A remote-friendly company may help companies stay connected and improve supply chain leadership styles as modifications are made to heighten candidates' experience.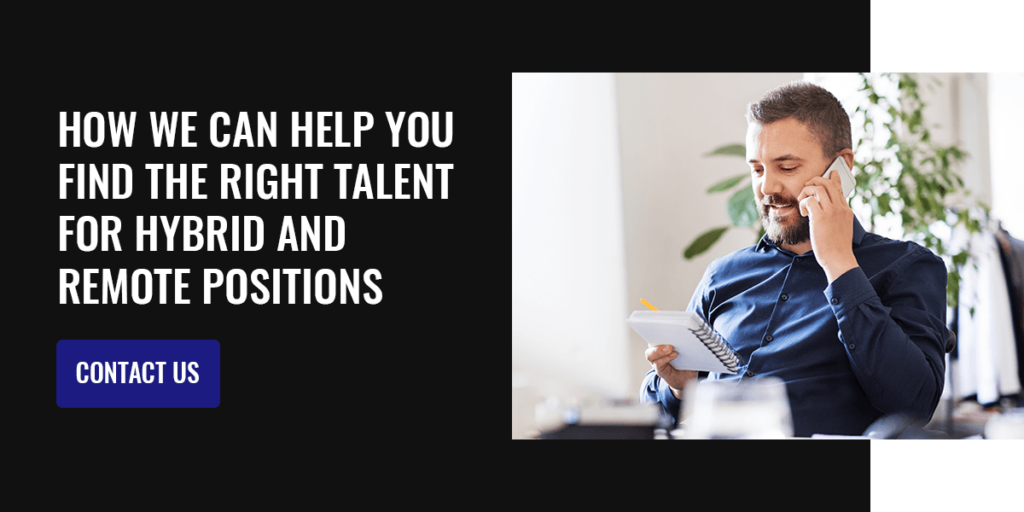 How We Can Help You Find the Right Talent for Hybrid and Remote Positions
Recruiting has become an entirely different process for hybrid and remote talent. Finding suitable candidates for important positions is easy with Optimum Supply Chain Recruiters. We can help you hire top talent at the right time for your supply chain discipline. Many companies look to us to find the best candidates to provide customer satisfaction that fit your needs. Regardless of the experience level needed for your executive positions, we are happy to partner with you and showcase our time-efficient methods.
OptimumSCR can also assist you with retained and contingency recruitment searches on an active or passive basis. We have the tools, knowledge, experience and expertise to place the right candidate in your supply chain or logistics discipline. We know that hiring an executive is a challenging decision, and you can feel confident in our services with our replacement guarantee. If your hired talent doesn't fit your requirements within a specific time frame, we will replace them at no additional cost to you.
OptimumSCR will help you find the perfect candidate today. Feel free to visit our website to learn more about the recruiting services we offer.